We visited MV LOGOS HOPE this afternoon. It is currently docked at Pier 15 (South Harbor). I was very, very excited to visit this ship, after reading about it from a section in the local news paper about a week ago. It carries the supposed "Worlds Largest Floating Book Fair".
I have failed on several occasions to attend local book fairs, so I am quite determined that I make it to this one. As a big bookie, the possibility of being surrounded by mountains of books is enough to make me salivate.
I was lame enough to actually count the days before it arrives here in Manila for its public opening. It was previously docked in Cebu before it sailed all the way here for another stop in their voyage.
First time inside a ship, considering that I don't really have any place to go to where it'd involve boarding a ship. The farthest travel I've been on was a ten hour cramped up bus ride.
The weather hasn't been particularly charming lately. And today was no exception. The heat was almost lethal. Honestly, I don't know how others could last long hours of sun exposure during this time of the year. The temperature may have been enough to fry up a sunny side up on the pavements. The air conditioning unit wasn't any help either.
There must have been dozens of people who had already come to visit the ship since when the guards saw us and a few others walking down towards the gate, they were already pointing us to where the ship was.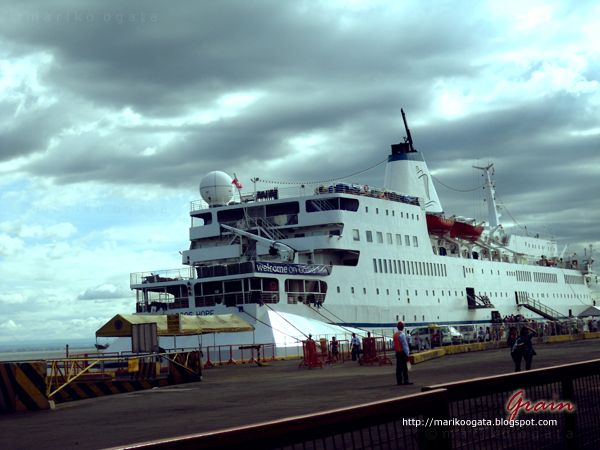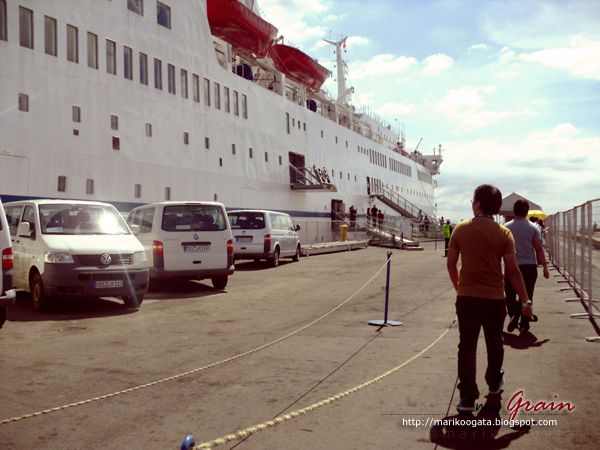 It required a fairly long walk from the gate before we were able to reach the ship. There was a line at the entrance were we had to pay for the entrance fee of 20 pesos per head. There was a small build up since there were groups in there who might have been there on some sort of tour.
The ship isn't cruise ship big as I thought it would be. But it was still quite impressive nonetheless. The people who were by the entrance door were very welcoming to us visitors. Just before the book fair, there 's an orientation area, where they had a section on the right side shaped like that of a life boat with seats painted in vivid red. The sides were cordoned off until the 2 minute orientation was done.

I wasn't able to take pictures on this area since the people rose from their seats as soon as the orientation has ended.
To the actual book fair area. . .
Someone was readily handing out shopping baskets by the door. There were shelves and shelves of books. In the middle tables, you'd see the bargained books mostly ranging from 100 pesos to 200 pesos. I made a beeline towards the novels. I wasn't familiar with most of the titles and authors but they looked quite interesting and so I purchased a copy for myself. I am now very much excited to start reading it. There was a section near the door dedicated to Narnia, which I know most of you are familiar with. On the opposite side, you'd see the rows of cook books, which, regretfully, I wasn't able to browse all too well since it was too cramped. I really can't reach for the books since people were literally blocking some of the shelves.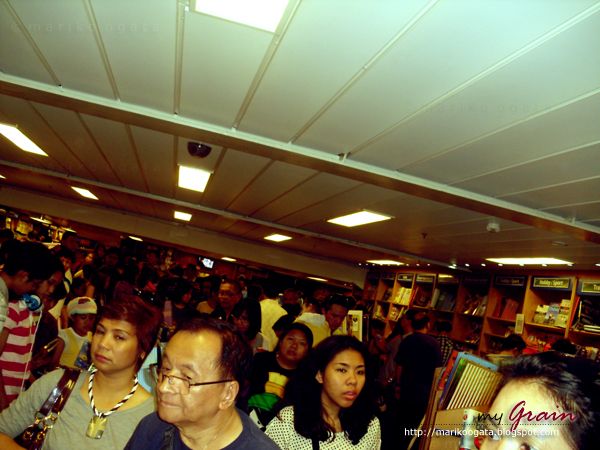 Roaming around was difficult because most often than not, I would end up hitting against somebody or I had to squeeze myself amongst the crowd just to get past the throngs of people that seem to multiply as minutes droned on.
There was also a portion were they placed their souvenir items ranging from baseball caps, shirts, cups, mugs, notebooks, lanyards and others. I snagged a few, obviously, since I am a fanatic of souvenir items besides being a book-holic that is. After at least half an hour of trying to move around the aisles, my dad and I finally decided to call it a day and I headed off to the cashier to pay for the items. The number of people inside the fair must have increased because it was starting to get stuffy inside and I started feeling woozy. The queue was long, but the service was fast, since there were a lot of payment counters. By the counter, if you, by any chance missed out on grabbing some of the souvenir items they offer, you could still grab a few by the shelves were they stacked up on some of these things. In there, I saw a hefty number of pens, which I was actually looking for while walking around.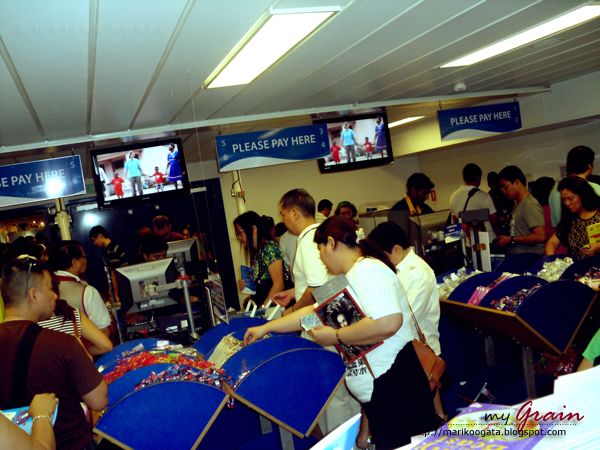 Bagging your items, you could have your purchase placed inside plastic or their eco bags which you could get for only 50 pesos. I end up purchasing more souvenir items rather than the books that I originally went there for.
Upon exiting you'd find more bargain books stacked up in neat piles. But since I am quite satisfied with what I have purchased, we decided to head straight out.
While on your way out, you'd go through several more of the attractions inside the ship.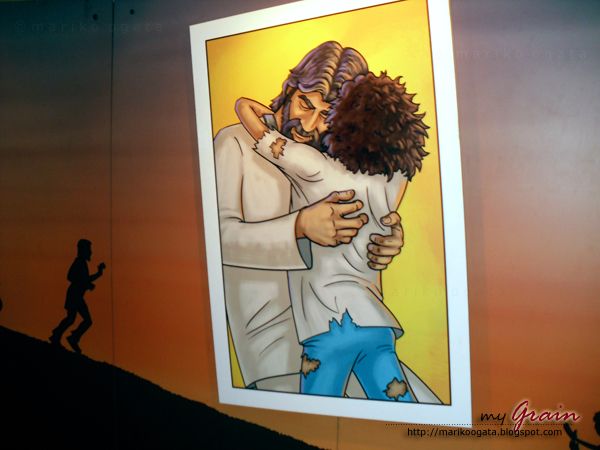 You'd see yourself walking around the so called, 'Journey of Life' which is about the story of the "Prodigal Son". Walk your way through the images lined up against the walls, and you'd end up in the theatre. They were having a program there when we passed by from the journey of life.
Upon exiting that area, you'd see yourself in the café. We weren't able to sit down and have a snack, since, again, there was a long queue by the cashier. And then another section were you'd see the restrooms and then you're out. . .
Overall, it was a one of a kind experience. Albeit tiring, it was well worth it. Well, it's not every day that you get the chance to visit a book fair that is inside a ship right?
Should I decide to have another visit, it would probably be best to drop by during days were there would most likely be less visitors so it wouldn't be such a hassle when you roam around the shelves. Although it wouldn't hurt to have a few number of people browsing along inside as well, since it would be somewhat awkward if you'd see yourself the only person browsing through the shelves. *sweatdrops*
MV LOGOS HOPE is indeed a memorable experience. The first ever ship I've set foot on. The first book fair I have ever attended.
And the crew members were the most cordial, helpful and nice staff I have ever come across with. May your goals and visions inspire more people. . . .