So. . . one of my biggest packages for the year just arrived today!!!! I was soooooo excited when my package was delivered in the afternoon bundled inside a paperbag with tons and tons of tape lol! How all of these items managed to fit inside, I would never know hahaha. . . I never expected that I'd be receiving it today so I just can't stop raving about it. . .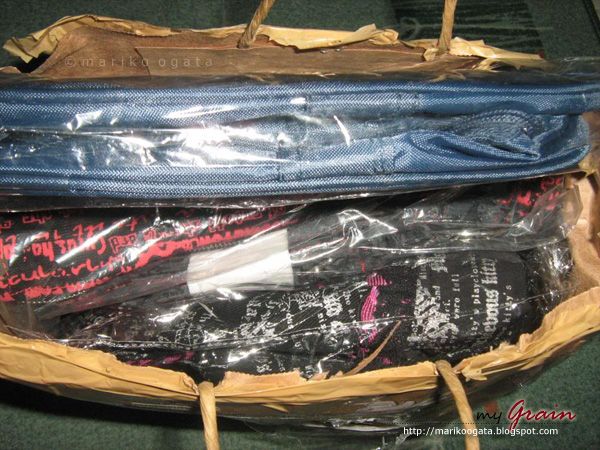 As you can see, I was only halfway in my task of properly opening the package, and I just had to snap a quick picture . . Tadda!!!!!!!!!!!
I won't give details on the items bit by bit like I usually do. I'm being lazy again lol. . .
Some of the items all laid out. . .
So here are my new bags. 2 are from bodyline. After giving it so much thought, I'm glad that I was finally able to grab a hold of my very own bodyline bags. The money is so worth it! And then there's my new School Bag.If you are fond of watching Japanese Dramas you'd be aware of these type bag that they use for school. I also have a leather version of this bag in black.

Here are just some of the random things I've bought. Yeah, I know I often buy things that are really out of the ordinary huh? Oh well I simply could not resist the cuteness. . There are these two cute mini food shaped mamegoma erasers. I wasn't able to get a close up shot since the camera goes bonkers all of a sudden when I click it. Just look for the two small boxes. The two transparent colorful looking boards with adorable mamegoma prints all over them are my super kawaii pencil boards. I feel bad that I'm gonna use them. Perhaps I should just add them to my stash? *thinks hard*. And ultra nice planners!!!!!! I'd be using them to note all my activities for the whole year 2010. . .Hopefully nothing to dreadful. . . . and, well, as I have said during the beginning of this paragraph this is the shot for all my random buys, lol and as you see on the left I actually bought some plastic bags! Hahaha!!!!! What?! They're cute!!!!! I got them from strpaya.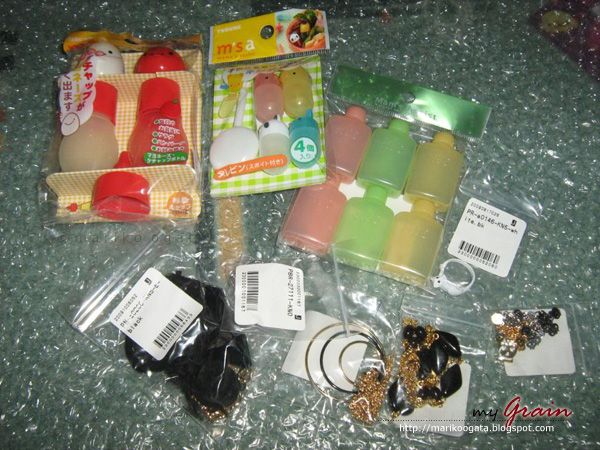 A shot of my new bento making accessories. . . 3 packs of the most adorable looking sauce bottles!!!!!!!! Oh my!!!! I just fell in love with the mini mayonnaise and catsup squeeze bottles. . . Tsk! I knew it!!! I should've purchased 2 packs of it!!!!. . . The rest of the items you could see in the pic are my new fancy accessories. . .