After 3 years of wanting to go to the MIBF I was finally able to go on its 34th year. I can't find the right words to explain how freakin' awesome and ecstatic I feel right now!
Some say that there are fewer exhibitors this year but what the heck, I was still able to hoard a whole bunch of stuff so I'm quite satisfied already. I dropped by during the opening day which was on the 11th of September then I visited again on the 13th, and during those two days I can say that I got most of the stuff that I really really wanted. But I find myself wanting more books. OMG! I'm thankful that I was able to save loads on my allowance because I really made some serious damage on my wallet.
Only got a couple of photos since I was too busy snooping around the shelves. I was literally going nuts!
Hoarded a bunch of stuff from Heartshapers booth (left side of the photo). They have DVD's for 200 each and VCD's which are mostly 75 php. I'm not sure if all the VCD's are worth 75 but majority of my purchases is worth that much for a piece. The videos are more on Religious/Educational stuff which is awesome for kids as well.
Tahanan (right side) is by far one of my most favorite booths. And they sell a ton of awesome stuff as well. Since I am a notepad/notebook addict I ended up digging through the bins they had for discounted pads. They sell the smaller ones for 20 each.

A booksigning booth for PSICOM. I passed by the booth on the first day while I was on my way to make my purchases on their newly launched books but I forgot to have my copy signed. BLEH! Typically, I don't read Tagalog novels/books but since it's quite popular nowadays I feel rather intrigued. So I ended up buying the books just to see if these books are my cup of tea.
I also purchased some Comics from the Philippine Bible Society. I had the comics they are selling when I was still a kid so I really wanted to buy them again because the old ones I've had got too old, wrinkly and unreadable.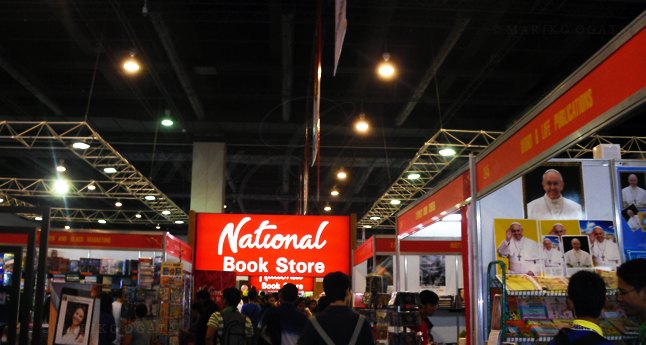 There weren't that much people yet considering that it's still work and office day. I'm expecting more attendees during the weekend. Happy that I already got most of the stuff I want before people start to flood in.